[Promo] Santino the Eternal by Sam JD Hunt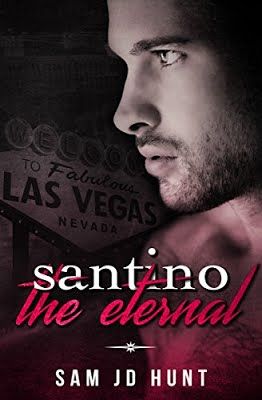 Date Published:
 3/28/2017
Santino the Eternal has never craved the forbidden – until now. As a blood-thirsty serial killer hunts the glitzy streets of Las Vegas, Santino collides with a young college student – can she make it out alive?
Clara Denton's life is flung into chaos when she discovers a drained corpse in a posh hotel room on the Strip. And as if her life wasn't already spiraling out of control, her reclusive boss has taken a disconcerting interest in her. Unable to resist the dark pull, she is drawn further and further into the murky world of the undead – as well as just the dead, too. When the handsome Matthew Hunter arrives with his sights set on Clara, she is thrown into one final eternal struggle of good versus evil.
Can love truly be eternal?
"Be free, my darling," he said to the languid corpse.
With the back of his hand, he wiped away the last drops of the precious nectar he'd drained from her fragile veins. "You have served me well." He watched as the ghost of his young victim fled her empty body.
He felt crushing remorse that he'd killed her. Her death was kind, painless, and he needed her blood, he convinced himself as he glanced around the darkened hotel room. The warm fluid rushing through him caused the sensation of a post-orgasmic high—so similar was the feeling that he craved the cigarette he usually only smoked after sex.
"No, not here," he said aloud to himself, his agile fingers placing the pack of cigarettes back into his designer suit coat.
The door to the hotel room opened—a swath of light from the hallway burned into his eyes and his hand instinctively reached up to shield himself from it.
A young housekeeper burst in, her eyes only glimpsing his form for seconds as he moved from the room with such preternatural swiftness that he was just a mere blur to her mortal eyes.
It was several more minutes before his perfected ears heard her scream in terror.
Chapter One
"C'mon, baby, don't run out of gas on me now."
Clara Denton reached over and turned off the air conditioning in her 1986 Ford Escort. The fuel needle, pointed at the letter E, seemed to mock her as she irrationally turned off the radio, as if those minor efforts would have any effect on the amount of gas her old car would burn on her way to work.
"One more mile," she said aloud to the vehicle. "One more mile and I promise to feed you after work. I can't be late again."
In her worn Fossil hobo purse her last ten dollars sat crumpled. Clara hoped it would provide enough fuel to get her back and forth to school that week as well as to her job cleaning rooms at the newest and classiest hotel on the Las Vegas Strip—the Roman.
Her stomach growled as she flashed her employee badge and pulled into the dark parking structure at the rear of the sprawling resort hotel and casino. At the place she'd worked before the employee facilities, those parts the guests didn't see, were austere. Here, however, even the employee parking garage was glamorous.
As she fled the car, terrified of punching in late again, she thought about how she'd never once seen the reclusive owner of the Roman—his name was Marchetti, she couldn't recall if she knew his first name. She assumed he was Italian, and rumors floated around that he was handsome, in his thirties, but even though he lived in the sprawling penthouse suite, no one she knew had ever seen him.
Clara's first three rooms were easy cleans, and in the second one she was able to nibble on an unopened bag of potato chips—she hadn't eaten since the night before when her roommate, Landon Miller, brought home scavenged baked ziti from the pizzeria he waited tables at.
The fourth room of her shift, however, was the one that changed the course of her life forever. As she flipped on the lights and walked in with her cleaning basket—maids at the upscale Roman weren't allowed to push carts into the rooms—she saw it. A foot poking out from the crisp white sheet of the king sized bed. "Oh, sorry ma'am, I thought the room was…" She felt a rush of cool air blast past her, maybe even the faint hint of smoke, and then she saw it.
The foot protruding from the Italian 800 thread count Frette linens was not an alive foot. It was ghastly white, the red painted toenails a grotesque contrast to the paleness of the skin. A prank, she thought as she approached it, waiting for something to jump out at her. The air in the room changed, became oddly stagnant, as she sheepishly tugged at the sheet. Clara heard herself scream, as if a bystander, as her body crumpled to the floor.
"The police," she finally managed to mutter, as she reached for the phone on the mahogany desk. She stared at the phone, unable to remember how to get an outside line for several moments before deciding instead to press the button that was labeled Emergency.
Within minutes, several large men in dark suits blew into the room. One lifted her to her feet and asked if she was okay. As she nodded, he glanced at her nametag and said, "You may have the afternoon off, Clara. Thank you." He turned to look at the body as the other men donned latex gloves.
"Uh, we should call the police. This is the serial killer. It's got to be another of his victims—you know, the Blood Lust Killer."
The dark suited man in charge flung his body toward hers, his hands braced on his hips. "I believe it's time for you to go."
"No. You can't touch anything until Metro comes," she argued, her voice fighting to sound strong. These men were tampering with a crime scene—her roommate, Landon, when not serving greasy pizza and pints of beer—was in the police academy. Clara had helped him study enough to know these men were breaking the law.
"Steven, please escort the former employee from the premises." He turned to face her once more, and with a sneer said, "We'll mail your final paycheck. Your services here at the Roman are no longer required."
She stood in shock, unable to process the dramatic turn that afternoon had taken. "You're firing me?" she finally choked out through her tears. The man never answered her, and she followed him to the central housekeeping department to return her uniform. The dark-suited stoic presence stood outside the changing room and walked her to her car, reminding her that security cameras would watch her exit the grounds of the casino.
In her hot car, with guards staring at her, she reached for her cell phone. Despite the glare of the suited Steven approaching her, she dialed 911 and switched it to speaker as she sped down the exit ramp. "Yes, at the Roman," she clarified to the dispatcher. "Room 80231—she was bloodless! White as a ghost." She paused as the dispatcher read back the information, then as Clara began to ask about the serial killer her phone went dead. Damnit! Out of minutes!
Moments later, she was fighting her way through traffic. "That jerk-off, how dare he fire me," she hissed into her empty car as she battled the throng of cabs down the small section of Las Vegas Boulevard that was known as the Strip. In shock, fuming and terrified, she barely remembered to make her left on Flamingo when her car started to sputter. "Not the transmission again," she groaned before her eyes set on the fuel gauge. "Shit!" She covered her mouth with her hand—Clara rarely swore, and when she did, she shocked even herself. "I forgot to get gas!"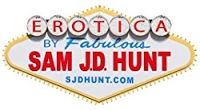 Sam JD Hunt resides in Las Vegas with her husband, the inspiration for the young Thomas Hunt character, as well as her two children. Her debut trilogy, The Thomas Hunt Series, put a fun and unique spin on the popular BDSM genre. She followed up with the highly successful DEEP: A Captive Tale–a dark BDSM erotic captor/captive story about a pirate and his lady that spans time and space. Her fourth novel, the full-length standalone The Hunt for Eros is an erotic art adventure that combines spicy romance with a cultural adventure based on true life events. It has been described as being like The Da Vinci Code, but with lots of heat added.
Hunt's next release was co-written with her husband. Dagger: American Fighter Pilot is a steamy contemporary romance, which follows a squadron of fighter pilots as part of the American Fighter Pilot read-in-any-order series. Following the release of Dagger, Hunt released the much-anticipated MMF/Bi/Ménage erotic adventure, Taken by Two and then its sequel, Torn from Two. Next, Hunt plans to release DEEPER: Capture of the Virgin Bride as a follow-up to DEEP. When not writing, Hunt enjoys travel, community involvement, spending time with friends and family, and hiking. She spends her days writing and trying to answer the age-old question: is it too late for coffee or too early for wine?