[Review] Seven Malas by John Leslie Lange
#OnTour with @RABTBookTours #review
Seven Malas by John Leslie Lange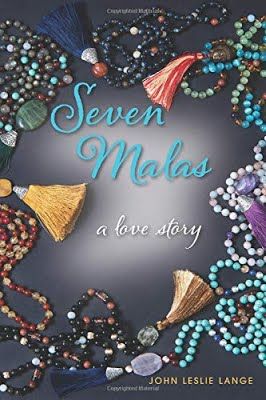 Fiction / Spirituality / Contemporary Romance / Travel
Date Published: November 23, 2018
When James Wilder signs up for a yoga retreat, something he's never done before, he's desperate to hit the reset button on life. Divorced, fighting cancer, and convinced he's hearing the whispers of the gods, he writes love poetry inspired by the great Sufi masters, Rumi and Hafiz. And in his wallet, he carries the business card of a beautiful woman he's never met. When she unexpectedly turns up on the mat next to his, everything changes.
From the foothills of Boulder, Colorado, to the turquoise waters of St. John, from the rice paddies of Bali to a dusty trailer park in San Diego, the gods lead James on a spiritual quest to find Great Love. Driven by ideals and bedeviled by his own flaws, he encounters a series of teachers–all female incarnations of Shakti, the Divine Feminine–who guide his evolution as a poet, a yogi, and a man.
~~~~~~~~~~~~~~~~~~~~~~~~~~~~~~~~~
The authors love of yoga and spirituality flows through this book as we follow James Wilder's story as he journeys on resetting his live following divorce as well as fighting cancer. I loved the poetry throughout the book that James was writing on his journey. This is a story of love, loss, and second chances for James, and at times it was all about reconnecting with the female form for James, he had a few bed partner in this story – but after divorce and cancer I don't blame him!
Seven Malas was quite an heartwarming and at times emotional read, but one that made think more on my own spirituality and also the adage of "life is too short".
~~~~~~~~~~~~~~~~~~~~~~~~~~~~~~~~~
About the Author
John Leslie Lange is a writer from Boulder, Colorado. He's also been a certified yoga teacher, a personal finance professional, an international investment banker, a geologist, and a carpenter. As a young man, he spent time in seven different universities and graduate schools in three countries, earning a degree in geology as well as a master's degree in international business management. Today, his life motto is "Seek, create, and enjoy beauty," and his writing reflects his deep interest in spirituality, science, travel and the larger questions in life. To date, he's written two novels, five screenplays and a book of poetry.
In 2017 John and his wife, Marielena, sold their home and are currently traveling the world, often with backpacks, walking sacred Caminos and visiting endangered natural wonders. Someday they hope to find a new home, perhaps a grass shack near turquoise waters.
Look for his book of poetry: Hafiz and I: Faint Echoes of an Ancient Heart coming in 2019.
Contact Links:
Goodreads
Web
Facebook
Purchase Link:
Amazon