[Review] The Knights of Boo'Gar by Art Roche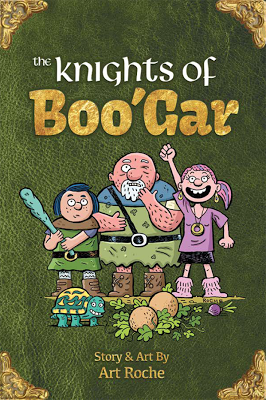 Middle Grade Humor, ages 7 to 12
Date Published: April 4, 2017
Publisher: Andrews McMeel / AMP! Kids
Princess Phlema's pet goat Babycakes has been kidnapped from Castle Boo'Gar, and the ransom note demands the kingdom's sacred Book of Loogey in exchange for the goat's safe return. King Mewkus summons the Knights of Boo'Gar to track down the kidnappers, but the Knights have been on furlough for so long that only one person responds to the call: a 13-year-old boy named Rowland. Undaunted by the lack of reinforcements, Rowland agrees to take on the quest, enlisting the help of his pet turtle and his trusty steed, who happens to be an ostrich. While Rowland treks through the Dark Woods, encountering dangerous obstacles and fearsome creatures, Princess Phlema takes matters into her own hands.
The Knights of Boo'Gar is a quirky adventure set in an engaging world of heroes, nose goblins, a spunky princess, giant bats and way too many cantaloupes. Packed with full-color illustrations, this wacky chapter book emphasizes the importance of friendship, bravery and is a delightfully easy read for kids and grown-ups alike.
Oh my! My kids loved this story – with names like Boo'Gar, Phelma, Sinius and Mewkus is it any wonder? They loved all the snot references and the colourful illustrations that went along with this story – me not so much, I must be getting old. Embarrassingly when I first read the title it was completely lost on me until I realised it was a spin on booger *facepalm*
This is full of colourful illustrations, gross humour that appealed to my kids and we now have a new favourite bedtime story!
**I was provided with an ARC of this book in exchange for my honest review for the purpose of this tour. **
About the Author

Art Roche is a cartoonist and three-time author, previously published by Sterling Publishing. He is currently the content director for the Charles M. Schulz studio in Santa Rosa, California. Before that, Art worked in video games and was a creative director at Cartoon Network.
Contact Links