#Audio #Review The Death in the Drink (The Viola Roberts Cozy Mysteries, Book 7) by Shéa MacLeod
#Audio #Review The Death in the Drink (The Viola Roberts Cozy Mysteries, Book 7) by Shéa MacLeod |
| @Shea_MacLeod @AnAudiobookworm #giveaway
Author: Shéa MacLeod
Narrator: Yvette Keller
Length: 4 hours 9 minute
Series: The Viola Roberts Cozy Mysteries, Book 7
Publisher: Shéa MacLeod
Release date: Aug. 23, 2018
Genre: Cozy Mystery


A local costuming guild has arrived in Astoria for a long weekend of recreating their favorite time period – the Regency. Think Jane Austen, sailing ships, high tea, a costume ball, and…a dead body.
When the guild's nastiest member winds up dead in the drink, Viola is convinced it's no accident. And after the husband of the deceased gets into a brawl on the front lawn of the town's most well-known landmark, she knows something's up. Armed with nothing more than a folding fan and her wits, she sets out to unveil the killer before somebody else winds up in Davy Jones' locker.
Viola Roberts cozy mysteries:
The Corpse in the Cabana
The Stiff in the Study
The Poison in the Pudding
The Body in the Bathtub
The Venom in the Valentine
The Remains in the Rectory
The Death in the Drink



Shéa MacLeod writes urban fantasy post-apocalyptic sci-fi paranormal romances with a twist of steampunk. Mostly because she can't make up her mind which genre she likes best so she decided to write them all.
After six years living in an Edwardian town house in London just a stone's throw from the local cemetery, Shéa headed back to her hometown of Portland, Oregon. She plans to live out her days eating mushroom pizza, drinking too many caramel lattes, exploring exotic locales, and avoiding spiders.
Shéa is the author of the Viola Roberts Cozy Mysteries and the bestselling Lady Rample Mysteries.
Website⎮Twitter⎮Facebook⎮Instagram

Yvette Keller's first job as a narrator was reading aloud to keep her little brother out of trouble. Her favorite party trick is reading words upside down. Little kids need to see the pictures. Yvette lives in her beloved home town of Santa Barbara, using a lifetime of vocal stamina in her home studio. She produces technical VO industrials for Mesa Steps Consulting clients in addition to audiobooks. A lifetime of reading and speaking has proven one thing: Yvette loves stories. She is thrilled to be making books accessible and engaging through her narration work.

The Story:
The Death in the Drink is book 7 in the Viola Roberts Cozy mystery series – and can easily be read as a stand alone however, as there is enough backstory on each character that you will not feel lost. Once again where ever Viola goes someone is bound to wind up dead whilst she is around – you think she has some bad Karma but no she just has a bad case of being in the right place at the wrong I guess you put it. Her bff Cheryl has persuaded Viola to join her in some cozy Regency re-enactment aboard a ship, and when someone ends up overboard it soon becomes apparent she was pushed rather than an accident. Viola once again puts her detective cap on and with the help from Lucas and Cheryl sets about to find the murder much to the chagrin of Detective 'Bat', who by now should be used to Viola's ways.
The Narration:
Once again Yvette Keller brings Viola Roberts and her motley crew of friends to life. She has been a dream to listen to for this series, as she manages to convey the emotions of each scene with just the right amount of what is needed. Yvette is brilliant as Viola, and the other characters, and she brings life to rather than just reading off the pages.
I received this audiobook as part of my participation in a blog tour with Audiobookworm Promotions. The tour is being sponsored by Yvette Keller. The gifting of this audiobook did not affect my opinion of it.
Viola Roberts' Top 10 Ways To Catch a Killer
Social media stalking

Identify their lawn clippings

Invite them to a seance

Pretend to buy real estate

Tackle from moving car

Hit them with a kayak oar

Jump out a window

Check their closets

Cosmetics, cosmetics, cosmetics

Slow speed car chase

THE CORPSE IN THE CABANA
May 9th:
May 10th:
May 11th:
May 12th:
Turning Another Page
May 13th:
Lone Tree Reviews
May 14th:
May 15th:
THE STIFF IN THE STUDY
May 16th:
May 17th:
May 18th:
May 19th:
Turning Another Page
May 20th:
Lone Tree Reviews
Books and Life
May 21st:
May 22nd:
THE DEATH IN THE DRINK
May 23rd:
May 24th:
May 25th:
May 26th:
Lone Tree Reviews
Turning Another Page
May 27th:
May 28th:
May 29th: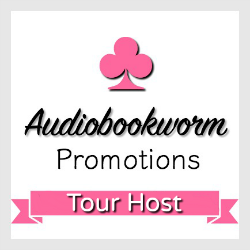 ➜Sign up as a host here