#Audio #Review Beyond the Gates by Jason D. Morrow
Author: Jason D. Morrow
Narrator: Stacy Gonzalez
Length: 8 hours and 39 minutes
Series: The Starborn Redemption, Book 1
Publisher: Jason D. Morrow
Released: April 20, 2019
Genre: Post-Apocalyptic; Science Fiction


The Containment Zone is a 500-mile radius surrounded by mountains and closed in by gates. No one can leave, and anyone who tries will die. Within are lawless bandits, corrupt soldiers, and once-human greyskins that hunt down people to spread the virus. Some say the Containment Zone is where the greyskin virus originated. Others say the people inside are little more than lab rats being studied by the nefarious Screven government.
When 12-year-old Skylar and her father, Liam, are caught trying to escape, they are taken to Vulture Hill, a government prison camp no one has ever left alive. Inside the prison, Skylar learns that the facility is little more than a testing site for finding people of a certain bloodline – the Starborn. These are people with special powers that manifests in various spectacular ways, and Screven wants to exploit them.
Skylar has always known there was something special about her family. For years, her father has had the ability to completely numb pain with just a thought. Lacerated skin, broken bones, they can all be ignored with enough concentration. Learning that her father is a Starborn means Skylar is probably one too, placing them both in extreme danger.
Now, father and daughter must do the impossible and break out of a prison known for killing so many. But Liam has leverage the government may be willing to buy – the cure for the greyskin virus.
The first two books of The Starborn Redemption are set 40 years after The Starborn Ascension and 17 years before The Starborn Uprising. Each Series can be listened to independently.



Jason D. Morrow is the author of more than 15 books in the Science Fiction and Fantasy genres, including The Starborn Uprising, The Starborn Ascension, The Starborn Redemption and Prototype D.

Stacy Gonzalez is a Chicago based narrator and commercial voice actor. She is feisty, bright and expressive. Stacy specializes in YA, self-help and romance, especially when the narration calls for a good handle on comedy, wit and sass. Audiofile Magazine has praised her pace and her ability to create bold characters. Stacy, who is half Colombian, speaks conversational Spanish. She has a great love for Old Hollywood—watching the movies and listening to audiobooks about any and every aspect of it! Follow her on Twitter at @stacygonzalezvo or visit her website at stacygonzalezvo.com.

Beyond the Gates is book one in The Starborn Redemption series, and I was gripped from the start. The beginning reads a lot like the Nazi concentration camps with eerie striking similarities, with our main character – 12 year old Skylar and her father, Liam, who have been caught trying to escape the containment zone and are being taken to Vulture Hill, a government prison camp. This is the type of camp you will die at – there is not hope of escape of release.
There is not a whole lot that happens throughout the book other than Sklyar and her father trying to survive and look for possible means of escape,all the while getting snippets of the greyskins. It is told from the duel perspective of Skylar and Liam, allowing you see how both are reacting and coping to their circumstances. There is not a whole lot of back story as to what happened 40 years ago to make the greyskins take over so I hope that is covered more in the next book and believe me there will be another book. this does end on a bit of a cliffhanger.
The story was good and held my attention, I loved the build up as the book went out and I can only imagine what is in story for Sklar and Liam in book and I can not wait to find out!
The Narration:
Stacy Gonzalez brought this story to life, alternating between characters flawlessly and smoothly. The audio was crisp and clear with no background noise or static. She did a great job at the character emotions and I hope she narrates book 2!
I received this audiobook as part of my participation in a blog tour with Audiobookworm Promotions. The tour is being sponsored by Stacy Gonzalez. The gifting of this audiobook did not affect my opinion of it.

Aug. 18th:
Country Road Reviews
Aug. 19th:
Valerie Ullmer | Romance Author
Aug. 20th:
Aug. 21st:
Aug. 22nd:
Aug. 23rd:
Aug. 24th:
Locks, Hooks and Books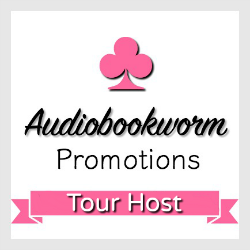 ➜Sign up as a host here