#Interview Mamma's Moon by Jerome Mark Antil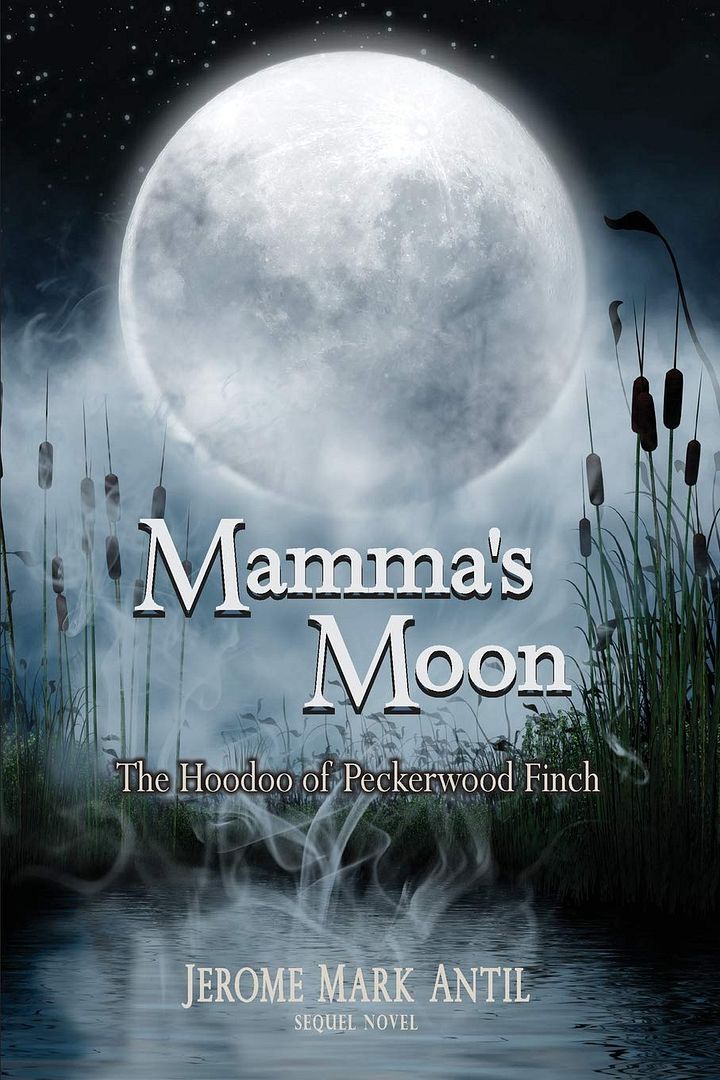 Date Published:
May 7, 2019
Publisher: Little York Books
This suspenseful sequel to "One More Last Dance" follows Peck Finch's search for his mother after leaving home at the age of nine, and the struggles of his friend Gabe, who is simultaneously facing a second-degree murder charge. Set within the rich and storied culture of Louisiana, this tale of self-discovery explores important questions about the meaning of love, friendship, family and more.
"Mamma's Moon" has received early praise for its layered storytelling with BlueInk Reviews calling Antil's newest work "a lovely story about the strong bonds of friendship that often supplant family ties."
Author Interview
For the record, please state your name.
 Jerome Mark Antil
What inspired you to become a writer?
 My father was a wonderful story teller.  Listening to radio shows in the 1940s, having to use my imagination.
What are your hobbies?
 Cooking, my wife and muse, model planes and boats.
What are you passionate about?
 Literacy in schools.
What interests are you into?
 Writing, fine dining and charity.
What social media do you use to contact with your fans? Facebook, Instagram, and Twitter
 I'm not good with it.  Looking for someone to do it for me. I do Facebook badly.
What is your username on the different social media platforms? (do you want this information to be published)
 Jerome Mark Antil
what did you do before you became a published author?
 Market Vice President – Research Professional – University Lecturer – Marketing
Do you have another job other than writing?
 I run our independent publishing company.
How long have you been writing for?
Most of my adult life in business. Eleven years, books.
What's your writing style like?
 A reviewer said my work reads like a Norman Rockwell.  I've been called a Hemingway lookalike, a Greatest Generation Mark Twain; reviewer of last two novels liken me to capote and Williams – so who the hell knows.
What's your favorite genre to write/read in and why?
 I like to right the truth, even a stretched truth with a bit of humor.  Historical fiction – even if I make up a murder in it.  I like to read Steinbeck, Hemingway best.
What's your least favorite genre to write/read in and why?
 Science fiction. It's not real.  
Some writers have something playing in the background, do you and what?
 Jazz, the blues – when I'm writing my Acadiana series. Opened door on my studio listening to birds, if writing something else.
What's the inspiration behind your books?
 My books always start with a sensational ending – and I try to earn my way to it starting with chapter one.
If you could do it all over again, would you change anything about your books?
 I'd rewrite them after I finished my eighth book – I'm a better writer.
Is there anything you found particularly challenging about writing?
 Spelling.
Who are your cover designers?
 Various graphic people.
what authors are your inspiration?
 Steinbeck, Hemingway. Breakfast at Tiffany's is one of the best written short stories I've read – so Capote – although I didn't like In Cold Blood.
What is your take on fanfiction?
 I don't know what that means.
What advice would you give any newbie author or anyone that wants to pick up writing?
 Write. Write every day.  Count your words.
What are your fondest childhood memories?
 Riding all throughout upstate New York with my father – listening to his stories.
If you Don't mind tell us a little about your personal life?
 I'm married to a lady I met in 1966…at a wedding. We live between Dallas Texas and Southampton New York. One daughter 33, two grandchildren.
Do you have any causes, charities, foundations that you are passionate about and donate to? if so why? how did you get involved??
 I've donated cases of books to VA Hospitals in every state. My wife and I have sponsored writing contest to over 20,000 school children – giving healthy cash prizes and computers.  We've donated hundreds of thousands of dollars in books to schools. Literacy is our passion.
Do you have any pets?
 No.
Some fun questions now 
what age were you when you were first kissed?
8 – is in my book The Pompey Hollow Book Club. 
who was your high School sweetheart?
 Pat Flatly.
what did you want to be when you were little?
 a Writer.
what is your favourite colour??
Blue.
what is your favourite food/s?
Lamb Chops.
what are you afraid of?
Living beyond mental alertness.
how old were you when you first got drunk?
17.
What was your first car?
1950 Pontiac.  Bought it for $50.  Drove it two years – sold it for $50.
did you live in a house or apartment when you were a child?
House.  My boyhood home is now a public park in upstate New York.
what was your favourite tv show as a child?
Kookla, Fran, and Ollie, Howdy Doody,
What was your favorite book?
Of Mice and Men.
who did you have a crush on when you were in school and how old were you?
Georgine…4th, 5th, 6th grades.
Tell us about your Book/S?
Huh?

Tell us a little about yourself. Perhaps something not many people know about? Can you share with us the best way to contact you and where to find your work? This is where you have the floor.
 Your library, any book store, check Amazon… Jerome Mark Antil
Thank you for taking time out of your busy schedule to do this interview with us!!!
About the Author
JEROME MARK ANTIL writes in several genres. He has been called a "greatest generation's Mark Twain," a "write what you know Ernest Hemingway," and "a sensitive Henry Wadsworth Longfellow." It's been said his work reads like a Norman Rockwell painting. Among his writing accomplishments, several titles in his The Pompey Hollow Book Club historical fiction series about growing up in the shadows of WWII have been honored. An 'Authors and Writers' Book of the Year Award and 'Writer of the Year' at Syracuse University for The Pompey Hollow Book Club novel; Hemingway, Three Angels, and Me, won SILVER in the UK as second-best novel.