[spotlight] Elfin Nights by by Brantwijn Serrah
#spotlight #giveaway @Brantwijn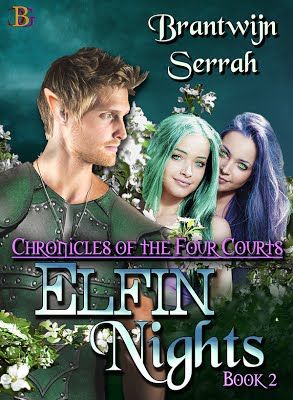 Elfin Nights
by Brantwijn Serrah
Fantasy Erotic Romance
Chronicles of the Four Courts, Book 2
Date Published: May 1st, 2017
Publisher: Champagne Book Club
Blurb
A fae Knight's life belongs to the monarchies, but for Finn of the Morrigan, his life comes second to his heart. And his heart belongs to his ladies.
The changeling princesses of the Springtime elves share a unique bond with their Knight—a bond that must remain perfectly secret. When the Queen of the Elves discovers their passionate love, she curses and exiles Finn from the elfin lands forever. With their guardian sent away to a lifeless wasteland, the royal changelings have no defense when the unseen enemies of the Four Courts attack, and the House of Elves falls.
To save his loves, Finn will need to break out of prison, undertake a perilous journey across the lands of Thairy, face wicked creatures, rogue Knights, and one of the most dangerous monsters in the fae world.
The enemy will soon learn what it means to provoke a true Son of War.
Purchase Links
Amazon | Amazon UK
About the Author


When she isn't visiting the worlds of immortals, demons, dragons and goblins, Brantwijn fills her time with artistic endeavors: sketching, painting, customizing My Little Ponies and sewing plushies for friends. She can't handle coffee unless there's enough cream and sugar to make it a milkshake, but try and sweeten her tea and she will never forgive you. She moonlights as a futon for four lazy cats, loves tabletop role-play games, and can spend hours pencilling naughty, sexy illustrations in her secret notebooks.
Brantwijn has two romance series currently in-progress with Champagne Books. She's also had short stories published in several small press anthologies. She has author pages on GoodReads and Amazon, and loves to see reader comments on her work. Her short stories and audio readings occasionally pop up her website, www.brantwijn.com.
Contact Links
Instagram |Amazon
Giveaway
a Rafflecopter giveaway