#Audio #Review The Haunting of Hillwood Farm by Kathryn Knight
#Audio #Review The Haunting of Hillwood Farm by Kathryn Knight

Author: Kathryn Knight
Narrator: Kristin James
Length: 5 hours 18 minutes
Publisher: Kathryn Knight
Released: Apr. 15, 2019
Genre: Paranormal Romance; Suspense


After tragedy strikes, Callie Sinclair is left with a gift she never wanted – the ability to communicate with ghosts. But when a desperate widow begs for her help, she reluctantly agrees to investigate the strange occurrences at Hillwood Farm. She quickly realizes she's dealing with a dangerous presence beyond anything she's ever experienced, and something else becomes equally clear – the only other living person in the house, Mrs. Turner's handsome grandson, thinks she's a scam artist. While she'd prefer to just ignore him, her heart beats a little faster every time he's nearby.
Luke Turner doesn't believe in spirits. He's moved back to restore the family farm, but living on the property serves a dual purpose – he can watch out for his grandmother. He's not happy about the sudden appearance of a self-described psychic, or his inexplicable attraction to her. His initial suspicions crumble as evidence points to an actual haunting, but he's still determined not to fall for Callie – the past has taught him it's best to avoid relationships.
As Callie is drawn deeper into the mystery, she becomes the target of a vengeful spirit, and Luke can no longer fight his feelings for her. Unable to resist their desire, passion ignites…even as the paranormal activity escalates to a final deadly confrontation.





Kathryn Knight spends a great deal of time in her fictional world, where mundane chores don't exist and daily life involves steamy romance, dangerous secrets, and spooky suspense. Kathryn writes contemporary romance spiked with mysterious hauntings as well as YA paranormal romance filled with forbidden love. Her novels are award-winning #1 Amazon and Barnes & Noble Bestsellers and RomCon Reader-Rated picks. When she's not reading or writing, Kathryn spends her time catching up on those mundane chores, driving kids around, and teaching fitness classes. She lives on beautiful Cape Cod with her husband, their two sons, and a number of rescued pets.
Website⎮Twitter⎮Facebook⎮Goodreads⎮Amazon


Kristin "KJ" James was born and raised in the Nashville, TN area. Acting has always been a passion of hers. Starting on the stage as early as preschool, KJ pursued her passion into college where she received a BA in Communication with a double emphasis in Theatre and Public Relations from Mississippi State University. After college she found herself more and more drawn to voice overs. Several classes, coaching sessions, seminars, research, and a closet-turned-studio later, and she now records and produces audiobooks on a regular basis. She has also done several radio commercials for clients such as Advance Financial, TriStar Health, and GAC. Her ultimate dream is to work in video games and animation, so hopefully in the not-too-distant future you'll hear her in an RPG or cartoon. When she's not in her booth, you can find her crocheting, playing video games, or running agility with her dog, Phoenix.


The Story:
This was a mix of horror and romance, a strange combination but it worked well. It is clean in terms of the romance, but the horror part certainly had me feeling all the emotions along with the characters you would expect from ghostly goings on.
I can't really say too much on the  story The Haunting of Hillwood Farm without giving spoilers away but this was a book that had me on the edge of my seat with a few slightly scary moments (when you are listing at 2am in the dark and hear noises that is!)
The Narration:
At first I thought the narrator was saying Kelly and not Callie (doh) – until I stared reading the book along with listening and discovered I was picking her up wrong! Apart from that mistake on my part Kristin  James was perfect for this book, she performs male and female characters well and she is able to differentiate them with ease.  Kristin was able to convey the emotions of the characters – fear for one instance when Callie has the encounter at her home, that made me fearful along with her! There were no background noise or distortion in the prodctuion making this a smooth listen
I received this audiobook as part of my participation in a blog tour with Audiobookworm Promotions. The tour is being sponsored by Kathryn Knight. The gifting of this audiobook did not affect my opinion of it.

Giveaway: $10 Amazon Gift Card
The Haunting of Hillwood Farm Giveaway: $10 Amazon Gift Card


May 19th:
Valerie Ullmer | Romance Author
Lone Tree Reviews
May 20th:
Rita's Reading Room
May 21st:
Such a Novel Idea
Turning Another Page
May 22nd:
May 23rd:
May 24th:
Momma Says To Read or Not to Read
May 25th:
Jocegermain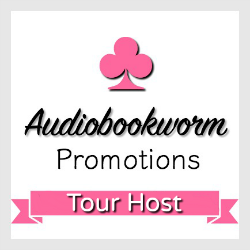 ➜Sign up as a host here